Samsung Galaxy S6 Edge Plus + Smartphone (AT&T T-Mobile Verizon Unlocked Sprint)
Buy Now
Item condition: Seller refurbished
Free shipping
View All Categories Samsung Galaxy S6 Edge Plus + Smartphone (AT&T T-Mobile Verizon Unlocked Sprint) Item Description -- Technical Details Technical Details About our Devices Payment Shipping Warranty Technical Details"Build your own" phone in this listing by choosing from the following specifications: Model: Samsung Galaxy S6 edge+ Network Options: Choice of AT&T Locked, T-Mobile Locked, Verizon Locked, Sprint Locked, or GSM Unlocked For more information about networks, please see the "About our Devices" tab. Storage Capacity Options: Choice of 32GB or 64GB Color Options: Choice of White Pearl, Black Sapphire, or Gold Platinum Condition Options: Choice of Excellent (A), Good (B), Acceptable (C), or Poor (D) Included in your Package: A pre-owned device, a generic wall charger, and cable Not Included in your Package: A SIM card or original retail box and accessories Device Features Touch Screen Smartphone with Curved Edge Screen Fingerprint, Heartrate Sensor 16.0MP Camera Resolution 5.7" Screen 4GB RAM Octa Core Processor Wireless Charging Capability (Qi/PMA) About our Devices About our DevicesSupplytronics takes quality seriously. We know how important it is to you that your device functions perfectly, is able to be activated with your network, and arrives in a condition that meets your expectations. Our industry-leading testing procedure, carried out by our trained team of professionals, ensures consistent quality with every device that we sell. Functionality Purchasing from us means your pre-owned device has been professionally tested and refurbished for full functionality. Activation with your Network Our devices are compatible with the Network chosen from the drop-down menu in the listing. Any pre-paid, 3rd party, or networks outside of the United States may or may not work with our devices depending on the original owner. GSM Unlocked: The device has been unlocked and can be activated on any GSM network such as AT&T or T-Mobile. Verizon Factory Unlocked:...
Popular Video
Samsung Galaxy S6 Edge Plus Hands On
The scaled-up and superpowered version of Samsung's extravagant Galaxy S6 Edge is here, and we're in New York City at the Samsung Unpacked event for a quick hands-on. Join us for a first look...
Latest News
What people are saying
iPhone X Wireless Charger, Cubevit Qi Wireless Charging Pad Stand for Apple iPhone 8 iPhone 8 Plus Samsung Galaxy N… https://t.co/YEykvTxI08
24.02.2018 - @monkey_viral
iPhone X Wireless Charger, Otium Fast Wireless Charging Stand Dock with 2 Coils Cell QI Wireless Charger Pad for iP… https://t.co/MjxEIU2DLj
24.02.2018 - @Delivery_of_BG
Fast Wireless Charger, Wireless Charger with Cooling Fan Stand Pad Mat Wireless Charger for iPhone X 8 Plus Samsung… https://t.co/nuLtO3rL4q
24.02.2018 - @Delivery_of_BG
Our Gallery
Samsung Galaxy S6 Edge Plus G928P Sprint Clean IMEI Grade D 3-658
VIEW THIS ITEM
Bids: 77
Item condition: Used
Ended: Oct 12, 12:26 PST
PLEASE READ BELOW BEFORE BIDDING and please check the IMEI/ESN if you intend to activate this unit (See pictures for reference). Please feel free to contact us if you have questions, if you do not understand the description, or if there is an error in our listing: IF YOU HAVE PROBLEMS WITH YOUR DEVICE: Please contact us immediately through eBay Messages. Please do not open up an eBay Return Request. Through eBay Messages, we are happy to help you with any issue. Thank you. Note: We do not verify activation with the carrier. TESTING: We carefully test each Unit: WHAT WORKS: LCD, Touch-Screen, Camera, USB Charge Port, Vibration, Loudspeakers, Buttons and headphone jack. Examples of what we do not test for, because we are unable to activate the device during testing: Connectivity to a network SIM Card Reader (Not all devices have this) Microphone Earpiece Speaker FAQ's What does the listing include? Used battery and back cover What is not included? Original accessories, SIM Cards or wall charger (SIM card trays may not be included. Please check photos) Are the photo(s) in this listing of the actual device? Yes Do you accept Returns? At CIT Electronics, we are proud of the quality of our service and the products we provide. If your items arrive with any tested function or part being defective or damaged, we offer a 30-Day Return Policy.  Just send us a message through eBay messages and we will be happy to help. Please note that we don't accept returns for issues with functions we aren't able to test. If you change your mind, you may also return the device, but you are responsible for return shipping and a 15% restocking fee. The restocking fee covers our cost to test, list, ship the device, and any eBay fees we incur.   We are a family run business that relies on eBay, so please be honest about why you are returning products.  When people are dishonest it hurts our standing on eBay and makes it difficult to sell our quality devices.   What are your Shipping...
Popular Video
Samsung Galaxy S6 Edge Plus Review: Sexiest Smartphone of 2015
The Samsung Galaxy S6 Edge+ is a power house of a phone. Best in class camera, display and performance. Check out the full review to see if it's worth the purchase. Amazon US Samsung Galaxy...
Latest News
What people are saying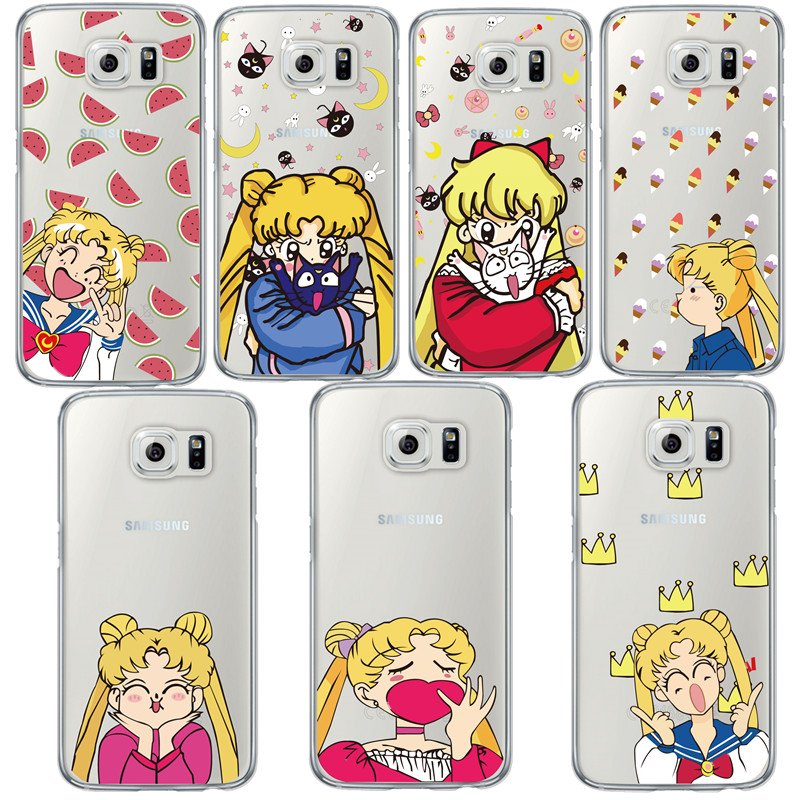 #InternationalSailorMoonDay Soft Silicone Lovely Sailor Moon Crown Phone Cases https://t.co/XHimzkUhYM https://t.co/fTmD0TfJ3A
24.02.2018 - @luvinsailormoon
Samsung Galaxy S6 edge plus + SM-G928 - 64GB - Black Sapphire Verizon unlocked
VIEW THIS ITEM
Bids: 53
Item condition: Used
Ended: Oct 12, 15:15 PST
Free shipping
PHONE , OEM SAMSUNG FAST CHARGER + CABLE+ New CaseNO SIM CARD, NO ORIGINAL BOX CONDITION: Phone is in good cosmetic condition. Screen has minimal to no scratches. LCD has shadow that does not affect screen functionality. Please refer to pictures for actual condition. WHAT IS INCLUDED: * Phone* OEM Samsung Fast Charger+ Cable*New Case PLEASE NOTE: This is Verizon carrier and factory unlocked to work with any GSM carriers.ESN 990005880622486 Free shippingAll our listing are shipped within 24 hours excluding weekend.We will respond all messages Monday- Friday from 08:00 a.m.- 05:00 p.m.We do not accept or give offers for our listings. Attention: We have database of IMEI and serial numbers for every phone sold. Every attempt to commit fraud activity will be reported to authorities for "Internet fraud"
Our Gallery
Popular Video
Samsung Galaxy S6 edge+: Unboxing & Review (Note 5 vs S6 edge+)
Comprehensive unboxing and review of the new Samsung Galaxy S6 edge+ featuring a curved metal and glass design, fast wireless charging, improved fingerprint scanner, Samsung Pay, fantastic...
Latest News
Non demorde il Samsung Galaxy S6 Edge Plus: altro ... - Optima Italia
02.02.2018 -
OptiMagazine
Ecco arrivare l'aggiornamento di gennaio per Samsung Galaxy S6 Edge Plus brand Vodafone, dettagli firmware G928FXXS4CRA1....
Samsung GALAXY S6, S6 Edge, S6 Edge Plus și Note5 ar primi ...
11.02.2018 -
Gadget.ro
Informația este confirmată suplimentar de către site-ul T-Mobile. Asta după ce au apărut date și pe un site de suport Samsung, se spune chiar că update-ul ar sosi în februarie. Hardware – sunt sigur că toate cele 4 modele Samsung anunțat în 2015 sunt...
Useful Links