ZTE ZMAX Pro Z981 - 32GB - Black (T-Mobile / Metro PCS) 4G Smartphone
Item condition: Seller refurbished
Free shipping
Product Info ZTE ZMAX Pro Z981 - 32GB - Black (T-Mobile / Metro PCS / Red Pocket) Smartphone Transform the way you use your phone with the ZTE ZMAX® Pro. The ZMAX Pro balances perfect form with awesome performance. Powered by a 1.5 GHz octa-core processor and 32GB of internal memory, you have the power of mobility in your hand. The security of your personal information and content is important, that is why the ZMAX Pro comes with a state-of-the-art fingerprint sensor to keep your data secure & private. Condition Description: This Item has been refurbished and is fully functional. The cosmetic condition of the item is overall good, it may show wear, such as scratches on the screen and body, and dings on the body of the phone. We consider the overall cosmetic condition of the phone to be 4 out of 5 stars. Carrier: This is an T-Mobile phone, It will only work on the T-Mobile Network, with T-Mobile or any of its sub-companies, such as Metro PCS. This phone Cannot be Unlocked for any other network. What You Get: ZTE ZMAX Pro - 32GB - Black - T-Mobile Locked Charging Cable Wall AdapterTerms & Sevices Shipping: All items that we offer are in stock and ready to ship. Our commitment is to process shipments promptly - within 1 business day of purchase. The free delivery option offered is standard (USPS First Class by default), with an estimate delivery of 1 to 5 bussines days, depending on your location. For a faster delivery please select from the expedited shipping options at checkout. Please note: no change of address will be possible after purchase. Customs: Every country has different customs rates and laws. This is the buyer's duty to the government. Customs is the international buyer's responsibility. Buyers should check with Customs in their country about any import tax/duties/customs fee/carrier fee before buying. Return Policy - Warranty: Return policy: Your satisfaction is very important for us, therefore you can return your order within 30 days of purchase for...
Popular Video
ZTE Axon 7: Top Budget Smartphone?
ZTE Axon 7 burst onto the "Smartphones under $400" scene! Thanks for blowing up my Twitter about it. Turns out it's pretty good. Axon 7 (64GB): http://amzn.to/2blzFva ZTE Axon 7 skins: https://db...
Latest News
What people are saying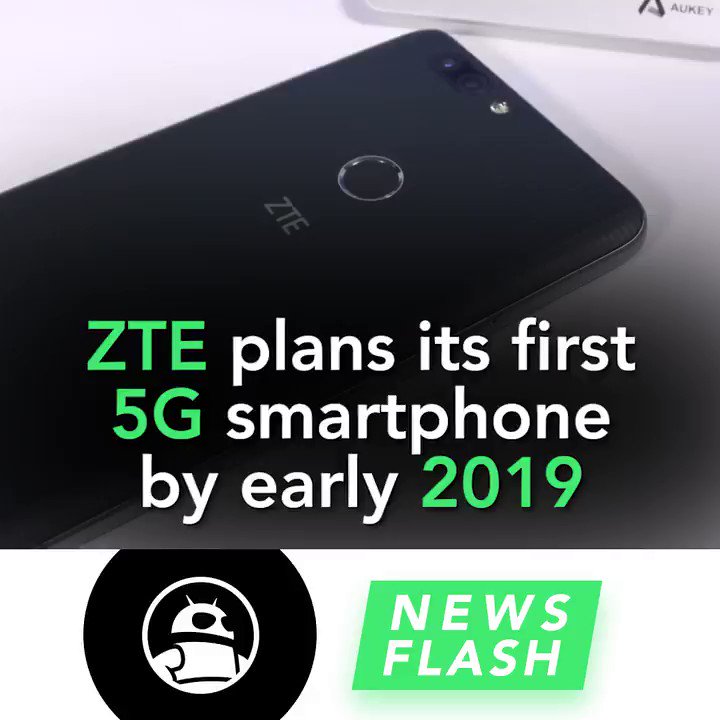 #ZTE looks to launch its first #5G smartphone by early 2019. Read more: https://t.co/5wKF5TKwSz https://t.co/eXBjGIOha4
21.01.2018 - @AndroidAuth
ZTE plans to launch its first #5G smartphone by early 2019 in the US. https://t.co/AcyHAXihoa
15.01.2018 - @tech2eets
Are foldable displays the next big thing for smartphones? https://t.co/idoiX20SdO
19.01.2018 - @CNET
Our Gallery
Verizon ZTE Blade Vantage 4G LTE Prepaid Smartphone Android 7.1 Quad-Core 16GB
Item condition: New
Free shipping
brand NEW Sealed and free shipping in US For Verizon prepaid only!!!!!!!!!!!!!!! Specs-16GB Storage-1.1 GHz Quad-Core Processor-2500 mAh Battery-8MP Rear Camera-Front Camera Includes-ZTE Blade Vantage Phone-Battery-Wall/USB Charger-Booklets
Popular Video
ZTE Blade A510 - Review - TecMundo
Melhores ofertas da Blade A510: ZTE Blade A510 americanas https://goo.gl/CzxV2f ZTE Blade A510 submarino https://goo.gl/GziqsK ZTE Blade A510 shoptime https://goo.gl/PLJtno http://www.tecmundo.co...
Latest News
What people are saying
On Sale Now: #ZTE #Axon 7 #Unlocked Smartphone,64GB #Ion #Gold (US ... – $329.99 – #Mobile_Accessories #Smartphone64GB - ...
25.01.2018 - @breaking_news88
ZTE Zmax Pro Z981 (MetroPCS) - Clean ESN - 32GB - Android - Smartphone - Used
Item condition: Used
Free shipping
[zipedit]ZTE Zmax Pro Z981 - (MetroPCS) Listing includes: ZTE Zmax Pro Phone 30 Day WarrantyThis auction is for the Phone ONLY, and it DOES NOT include EARBUDS, PACKAGING, OR ANY OTHER HARDWARE OR ITEM NOT MENTIONED IN THIS AD. CONDITION:This phone is previously used and has undergone testing to ensure normal functionality. The phone is in overall good condition and may also contain minor scratches and scuffing, as well as other signs of normal use. Phone has clean ESN. Please view the actual photos above for a complete idea of what you'll be receiving. What is tested on device(s): Power upLCD DigitizerCharge PortWiFiCameraSpeaker/MicVibrationExternal ButtonsWhat is not tested on device(s):Connectivity to a networkSIM card readerCustomer Service Information We are available for customer service questions and concerns Monday through Friday between 8:00am and 3:30pm Mountain Standard Time, excluding holidays and emergency-related closures. We are not open on Saturday or Sunday, and any communications sent between Friday at 3:30pm and Sunday night will NOT be responded to until the next business day (normally Monday). We can answer questions and concerns much more accurately and quickly through the email. SHIPPING: WE WILL NOT SHIP to any address that is not the confirmed registered address of the winning bidder. No exceptions. Before paying, please ensure your address in PayPal is confirmed and is the address you want the item shipped to. Items are shipped 1-2 business days after payment (Monday-Friday, excluding holidays or emergency-related closures). Items will be shipped standard ground using either UPS or the US Postal Service, depending upon the size of the order and the shipping address. Some auctions may not be available to customers outside of the 48 contiguous U.S. states. A tracking number will be sent to the registered email address of the buyer by our automated system. Please wait about a day before attempting to track a shipment as it may not be in...
Our Gallery
Popular Video
SMARTPHONE ZTE BLADE L5
Smadtphone Zte Blade L5 Brasil.
Latest News
Telstra launches Tough Max 2 smartphone with ZTE
23.01.2018 -
Telecompaper
Australian operator Telstra has introduced its Tough Max 2 smartphone designed for tradies, construction workers, miners, farmers, outdoor adventure enthusiasts or anyone seeking extra protection and durability in a smartphone. Telstra worked together...
Would you buy a foldable, dual-screen smartphone like the ZTE ...
08.01.2018 -
Android Authority (blog)
Last week's poll summary: Out of almost 6,000 total votes, 19.7% of our readers are most looking forward to the Google Pixel 3 and Pixel 3 XL in 2018. 14% are most looking forward to the OnePlus 6, 13% are looking forward to the Samsung Galaxy Note 9...
Useful Links